Hallo Ihr Lieben,
heute bin ich Angela wieder an der Reihe, um Euch eine Inspirationskarte zu zeigen. Ich habe mich diesmal für das neue süße Stamp Corner Katzen 2 Set entschieden und eine Slimline Karte damit gewerkelt.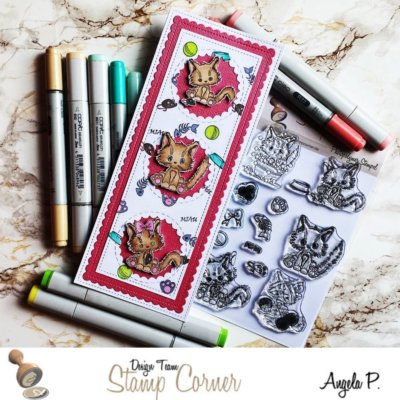 Für die Karte habe ich ein Stück Perfect Colouring Paper mit den kleinen Zubehör Stempeln aus dem Katzen Set querbeet bestempelt und mit den Copic Marker coloriert. Da ich auf der Karte drei der Katzen verwenden wollte, passte die kleinste Stanze aus dem Time for Tea Designs Slimline Trio Circle Die Set perfekt. Für die Mattung habe ich ein Stück Shimmer Cardstock von Lawn Fawn mit einer Stanze aus dem Scalloped Slimline with Hearts Portrait Die Set von Lawn Fawn ausgestanzt. Für die letzte Lage meiner Karte habe ich die größte Stanze aus dem Large Slimline Set with Sliders von Lawn Fawn verwendet und alles mit dem Stamp Corner Sticky Tape auf meine weiße etwas kleinere Grundkarte geklebt. Die Katzen habe ich ebenfalls mit Copics coloriert und mit der Schere ausgeschnitten. Zum aufkleben habe ich Foam Dots für ein bisschen mehr Dimension verwendet.
Ich wünsche Euch noch einen kreativen Tag, Tschüssi und bis bald.
Liebe Grüße
Eure Angela
Materialliste:
Time for Tea Designs Slimline Trio Circle Die Set
Lawn Fawn Shimmer Cardstock
Lawn Fawn Large Slimline Set with Sliders